If you enjoy Jin, feel free to donate via paypal. The money will most likely go towards paying for the hosting of this website.
If you get an error similar to the following when trying to install or run Jin, you need to set your Mac OS X to allow all (including unsigned) applications to run.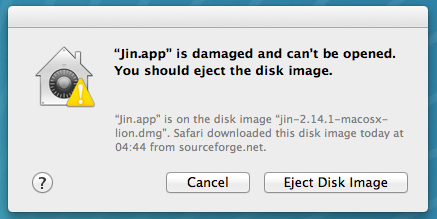 Open the Settings application, select "Security & Privacy" (if needed, click the lock at the bottom left and enter your password) and in the "General" tab, select "Allow applications downloaded from: Anywhere".